William and Harriet Francis
It is said that William Francis was born in Asphodel Township, Peterborough County in 1874. In the 1880s and 1890s, the family resided in Huntingdon Township in Hastings County. By the last years of the 1890s, William was in his early twenties. He moved to Otonabee Township to work as a truck man. He lived with the family of Nelson and Minnie Redpath. Also living with the Redpath family was their niece, Harriett Redpath. Hattie was at the time 17 years old and was a daughter of William Alexander Redpath and Marjorie Isabella Cummings.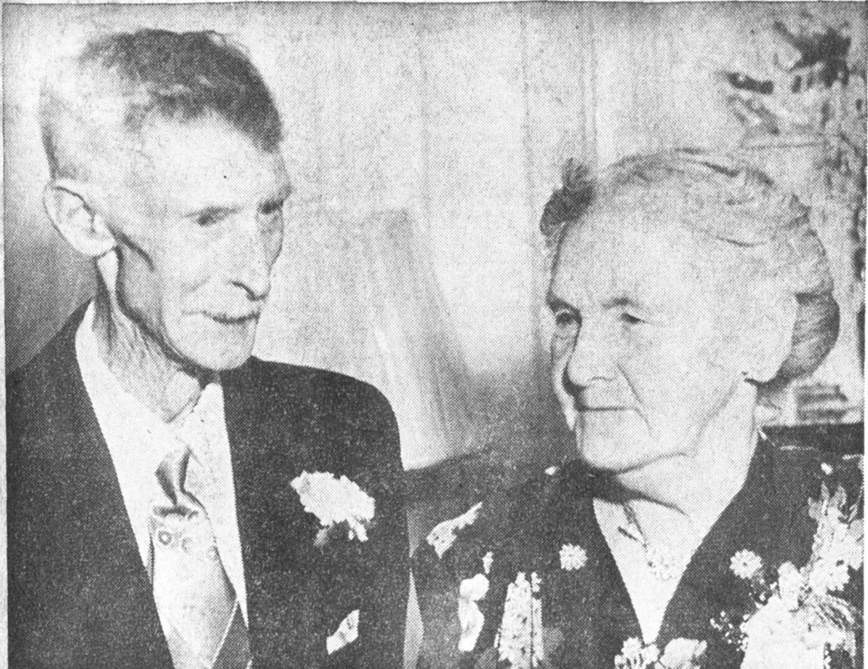 William and Harriett (Redpath) Francis
Married 50 years June 1952
Marriage in the Cards
Fate was in the cards for William and Hattie. A happy romance brought about their marriage in the course of time. Their wedding took place at Birdsall, Ontario on 11 June 1902. For twelve years, some prior to his marriage, William worked at Birdsall Station, an employee of the Grand Trunk Railway. When he left the railroad, William decided to take up farming. For more than twenty five years, William and Harriet resided on a farm east of the village of Keene, Ontario.
Six children would be born of their union. A son, Roy Nelson Francis, was born in 1903. Then a daughter, Marjorie May was born in 1905. In 1912, a son, Clayton Alexander was born and died that same year. In 1914, another daughter Hazel Ann was born. Then in 1916 and 1917 the couple lost a baby daughter in each of these years.
Grown Children Marry
William and Harriet lived in Otonabee Township for many years. Their children grew up there and as young adults found their life partners in marriage. Roy married Jane McIntyre, daughter of Albert and Minnie (Jackson) McIntyre. Marjorie became the wife of Joseph Slattery of Otonabee Township. He was a son of Patrick and Mary Anne (Crowley) Slattery. Hazel married Errol Gardiner Burns.
Fifty Years Married
It was in 1931, William and Harriet retired from farming. In retirement they moved to Mather's Corners where they resided in a tidy white frame house. In June 1952, William and Harriet celebrated fifty years of marriage. They enjoyed a very long lifetime together. William Francis died in 1955 at their Mather's Corners home. Harriet (Redpath) Francis  died there in 1966. They both rest in Fife's Cemetery in Otonabee Township.