Section School 11 Emily Township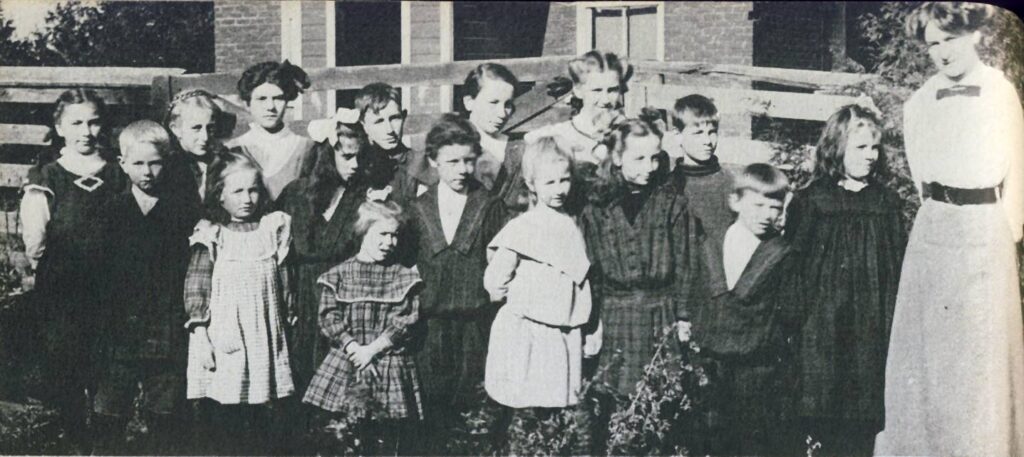 S.S. #11 Emily about 1910
Back Row L-R: Clara Bannon, Tom Bannon, Victoria Burroughs, Harry Bradley, Beatrice Peacock, Maggie Bannon, Tom Croft
Front Row L-R: Vera Low, Mary Lang, Terressa Latchford, Vernon Lang, Elsie Bannon, Mina Balfour, Harold Lang, (name forgotten), Teacher Miss Grant
In 1910, children living in the first three concessions of Emily Township attended Section School 11, a small one room school whose teacher that year was a Miss Grant.
Near the end of that school year, the teacher posed with her students while their photograph was taken. Many years later a copy of this picture was labelled with the names of those children attending classes during that school year.
The Bannan Girls
Three sisters, Margaret, born 1900; Clarinda, born 1901 and Elsie Gertrude, born 1902, all attended SS 11 in Emily Township in 1910 and 1911.  These girls were the eldest daughters of Edward Bannan and Gertrude Ruth. In 1911, their older brother, George, had already finished his schooling years. Their younger siblings, Pearl, born 1905 and Harold Norman, born 1910, were not yet old enough to begin their studies.
Edward Bannan, born 9 January 1861 in Ontario was the father of these children. A son of John Bannan and Margaret Montgomery, he had married Catherine J. Gertrude Ruth on 3 March 1897 at Lindsay, Ontario. Gertrude was born in Ontario in August 1874, a daughter of George and Elizabeth Ruth.  Edward and Gertrude lived their lifetime in Emily Township. Gertrude died on 27 March 1930. Edward died four years later, on 6 June 1934. They rest in Emily Cemetery, just east of the village of Omemee.
In 1911, Clarinda Edna Bannan was a young girl of 10 years. She was known as Clara by her school friends. After completing her education, Clara continued to live at home with her parents. On 5 March 1924, Clara married James Henry Sisson. James was 24 years old, a farmer and son of James Sisson Sr., and Mildred Merrifield. 
Elsie Gertrude Bannon, born in 1902, was the youngest of the three girls attending Emily Township SS11 School in 1911. With her sisters, Gertrude walked to school from their family home at Lot 6 Concession 2 of Emily Township.
After her school years, Gertrude married Charles Edward Davis. Charles was born in Ennismore Township in 1900. The married at Christ Church, Omemee on 27 August 1924.
Alvena Beatrice Peacock was known by her second name, Beatrice, during her school years. She was born 10 October 1898 in Cavan Township, a daughter of William Peacock and Sara Jane Graham.
As a young woman in her mid twenties, Beatrice married Joseph Edgar McGee on 5 October 1925. Joseph was the son of George McGee and his wife, Mary Ann Downer.
British Home Child
Thomas Edward Croft, who was known as Tom, was living in the household of Letitia Windrim in 1911. From there he attended his studies at SS 11 in Emily Township.  Letitia Windrim was 76 years old and a widow. Her husband, Joseph Windrim, died 30 April 1899.
Early in the year 1911, Thomas Edward Croft had arrived to Canada from England. He was 10 years old and had come on the ship Sicilian, as part of the Barnardo Homes immigration of children. Thomas arrived at the port of Halifax, Nova Scotia, in March 1911 and from there he was brought to Peterborough to become part of the household of the widow, Letitia Windrim.
Vera Isabella Lowe was born 9 June 1904 in Emily Township, Victoria County. She was a daughter of Robert Frederick Lowe and Harriet Connell. In 1911, eight year old Vera attended school as a student of Miss Grant.
On 27 August 1927, Vera became the wife of James Henry McKee. They married in the village of Omemee, Ontario. James was born 16 December 1901, a son of George James McKee and Annie Shearer.
Vera Isabella (Lowe) McKee died in Peterborough on 31 December 1977. James Henry McKee died on 7 October 1998. They rest in Emily Cemetery, Emily Township, Ontario.
Mary Kathleen Lang was born 4 January 1903 in Emily Township. Mary was the daughter of Frederick James Lang and Susan Edith Storey.
As a young woman, Mary became the wife of Walter H. Thompson. She died on 8 October 1928, at their Emily Township home. Mary was seven months pregnant when she became ill. Both she and the baby died. They are buried in Emily Cemetery.
Teresa Agnes May Latchford was born 10 August 1905 in Emily Township. She was the daughter of John Wesley Herbert Latchford and Agnes Ethel Victoria Malloch.
Teresa later became the wife of Cecil Ernest Jones. They had three children, Cora who married George Mills; Audrey who married Blake Trennum and Leonard Jones.
Cecil died in October 1971. Teresa Agnew May (Latchford) Jones died 23 June 1980 at Civic Hospital in Peterborough. They rest in Emily Cemetery.
The Lang Brothers
Vernon Storey Lang, son of Alexander Lang and Ida Clara Storey, was born 28 May 1902 in Emily Township. At the age of 9 years, in 1911, Vernon attended lessons as a student in Miss Grant's class at SS 11, Emily.
After completing school, Vernon married Ruth Margaret Mitchell. She was born in 1904, a daughter of Alex Mitchell and Margaret Patrick. Vernon and Margaret lived throughout their married life in the Emily Township area. He died 31 October 1969 at Omemee. Margaret Ruth (Mitchell) Lang died on 12 January 1984 in Peterborough. They rest in the Emily Cemetery.
Harold Alexander Lang, brother of Vernon and son of Alexander and Ida Clara (Storey) Lang, was just 7 years old in 1911. He attended school with his older brother, students of Miss Grant.
After completing his elementary education, Harold took up farming. On 12 June 1936, at Peterborough, he married Pearl Charlotte Hutchison. Pearl was born 28 March 1904 in Otonabee Township. She was a daughter of William Hutchison and Sadie Wilson. They had a son, Barry Hutchison Lang, born in 1944.
Pearl Charlotte (Hutchison) Lang died on 13 June 1968 at Omemee, Ontario. Harold Lang died on 1 December 2004 in Peterborough. They rest in Emily Cemetery.
A Future Teacher
Mina Bernice Balfour, born in November 1901, was 9 years old in 1911 when she attended school at SS 11 Emily. Mina was a daughter of Robert James Balfour and Minnie Etta Connell.
After completing her own education, Mina went on to become a school teacher herself. She taught in local schools until her own death occurred in April 1932 at Ross Memorial Hospital. Mina did not marry.