James and Ann (Jackson) Fuller of King Township
James Fuller, was born in England, circa 1823. Less than a decade later, in 1831, he came to Canada West with his parents, Samuel and Maria (Bolton) Fuller. At the time, James was a boy of nine years.
In the year that James turned sixteen, both his parents died. First in March 1838, his mother, Maria, passed away, then in December, the death of his father, Samuel, took place. Their remains rest in the Godbolt Primitive Methodist Cemetery, in Albion Township, Peel County.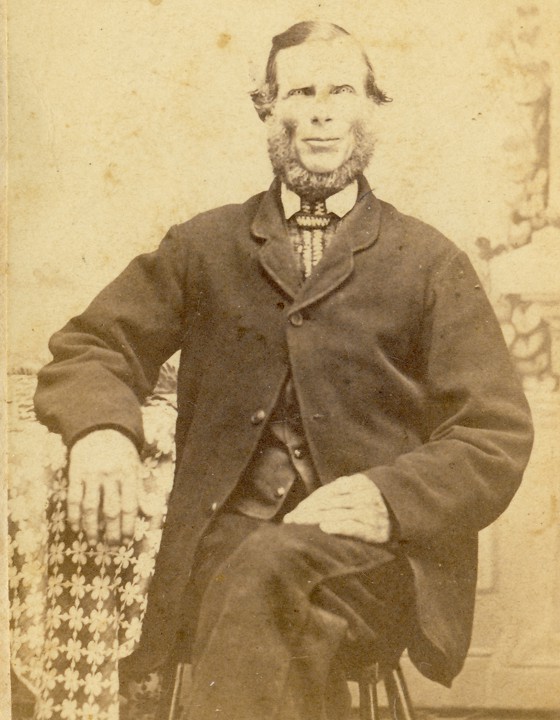 "Grandfather Fuller"
Probably James Fuller
As a young man of some 26 years, James married Ann Jackson on 5 March 1849. Ann was also born in England, her birth date being 16 February 1825. Ann's father was Charles Jackson. Ann and James established their home on Lot 17 in Concession 11 of King Township, York County.  Here they raised a family of eight children.
Raising a Family in King Township
The children of James and Ann (Jackson) Fuller included three sons and five daughters. Maria, the eldest, was born in 1850. Charles Jackson Fuller was born 4 October 1851 and William Henry was born in 1855. The next three children were daughters. Rachael was born in 1857, Martha in 1860 and Ann Louisa in 1861. In 1864, James Albert was born. The youngest child Jane Elizabeth was born in 1866.
James and Ann remained throughout their lifetime in the township. James died at their home on 17 November 1905. Ann died a few years later, on 24 February 1911.
At Toronto, on 5 October 1870, Maria became the wife of William McKinley.  In 1873, Maria gave birth to a son. They named him William Jr., after his father. The following year another son was born and they named him John Lewis. Nearly a full six years later another son was born in December of 1879. He was given the name of David. Following the birth of this child, Maria (Fuller) McKinley died of puerperal fever.
With three small sons to care for, William McKinley remarried not long after the death of Maria. His second wife was Rebecca, daughter of James and Rebecca (Stewart) Rutherford. Born in Euphrasia Township, Grey County in 1853, Rebecca was 28 years old when she and William were married in King Township on 25 May 1881.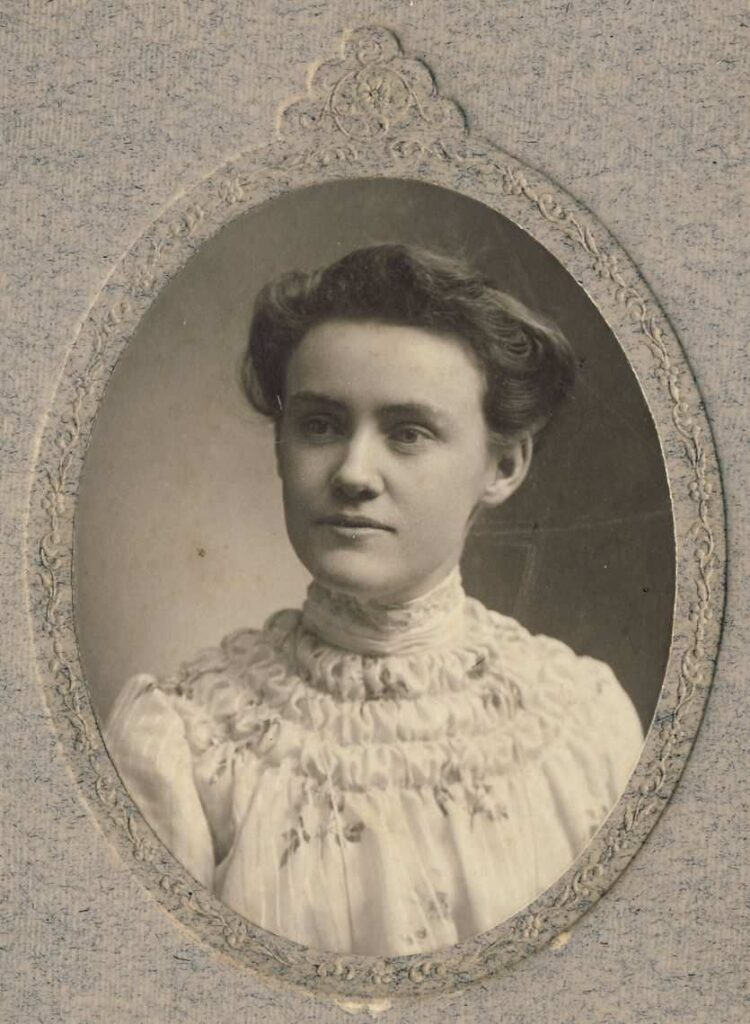 Two years later a daughter, Annie Luella, was born on 16 July 1883. Annie would never marry, but lived during her younger years in her parents' household. The family remained on their farm in King Township for almost twenty years while William worked the land.
Retirement to Bolton Village
Late in the 1890s, they sold the farm and moved to the village of Bolton in Albion Township. The little community takes its name after one James Bolton who had emigrated from Norfolkshire,

 England in 1818. A master builder and carpenter, James Bolton would, during his lifetime, gather the credit for erecting the first grist mill at Weston, the mills at Newmarket, Lloyd's Millls at Lloydtown, Hughes' Saw Mill at Tecumseh along with many other buildings in and around the area. When the McKinley's moved into the community, it boasted the Albert Dodds carriage and wagon factory that opened in 1873, four grocery stores, a harness shop and five hotels.
After her mother, Rebecca, died in November of 1914, Annie continued to stay with her father. She became a school teacher, working for a few years, before giving up her career to stay at home looking after her aging father. William Fuller passed to his reward in March of 1928.
Well into her fourth decade, Annie was now on her own in her own for the first time. She eventually moved to the town of Unionville. In her last weeks, illness overcame Annie. Consequently she was taken to Toronto East General Hospital. There she died on 14 November 1944. Annie was buried alongside her mother and father in Laurel Hill Cemetery at Bolton, Ontario on 17 November 1944.
Charles Fuller Marries
Charles Jackson Fuller, the first son of James and Ann, married Pauline, daughter of Thomas and Elizabeth (Green) Beatson. Born 20 December 1852, Pauline was a young woman of 24 years when she wed Charles. They married in King Township on 5 July 1876. Their family would eventually include five sons and two daughters. The boys were Hilton, Telford, Chest, James and Albert. The two daughters were Eva and Delia.
The first child given the name of William Henry Fuller was born 26 August 1853 in King Township. He died on 26 March 1854 and was buried in Godbolt Primitive Methodist Cemetery in Albion Township.
William Henry Fuller Weds Elizabeth Jackson
On 27 January 1855, another son was born to James and Ann. This boy was also named William Henry Fuller. He grew up and in time married Elizabeth Jackson, daughter of Frank and Janet (McKay) Jackson. Elizabeth was born in a small community called Hammertown. This small community, in King Township, was once located near the intersection of Concession 12 and Sideroad 17. In its day, the hamlet included a general store, blacksmith shop, post office and schoolhouse. Elizabeth and William married on 16 March 1892 in the village of Bolton. A year later, a baby daughter was born to them. Named Laura, this child lived little more than a year and a half. On 12 December 1895, a son, Harvey Edgar, was born. Harvey lived to be 86 years old, his death occurring on 8 January 1982.
William Henry Fuller died on 22 May 1940. His wife, Elizabeth (Jackson) Fuller predeceased him, her death taking place on 13 September 1932. They rest in Laurel Hill Cemetery at Bolton.
Martha Fuller Marries William H. Brandon
Martha, daughter of James and Ann, married William Henry Brandon on 24 March 1897. Their wedding took place in King Township.  They do not appear to have had any children. In the early 1900s, William's father, Edward, who was then in his eighties, resided in his son's household. By 1911, it appears that William and Martha were residing in Red Deer, Alberta. Edward Brandon did not travel out west, but stayed in Ontario, living in the household of his daughter, Esther Ann, who was the wife of Joseph Watson.
With the passing of another decade, Martha and William had returned to live in Ontario. In 1921, they made their home once again in King Township. Henry was then 65 and Martha, aged 60 years.