William & Jessie Condon Douro Pioneers
William Condon, pioneer settler in Douro Township, was born in Ireland in the early 1800s. His wife, Jessie Waddell, had been born in Scotland, also in the early years of the 1800s. They were destined both to come to Upper Canada where their lifetime together would begin. William and Jessie are among the early pioneer settlers of Douro Township.
Family Life
Their marriage took place about 1840 for their eldest child, a daughter named Mary, was born about 1842. On New Year's Day 1844, another daughter, was born. She was named Margaret Lilly. On 28 November 1845, Ellen Condon was born to William and Jessie. Two years later, on 5 October 1847, Honora Condon was born. Another two years passed, when almost on Christmas Day, Jessie gave birth to another daughter on 24 December 1850. This little girl was named Jessie after her mother. In 1851, a sad event happened for the family. That year, an infant newborn son died. He was not given a name. The last daughter, making six in all, was Elizabeth, born 4 September 1855 in Douro Township.
Sharing of a Name
The name of William Condon was very popular in Peterborough and area in the 1850s. There were six different William Condon's living in the area in 1851.  The eldest, William Condon of Otonabee Township, was 54 years old, having been born in 1798 in Ireland. Another William Condon, again of Otonabee Township, was 46 years old. He too had been born in Ireland in 1806. Then there was William Condon, born 1811, husband of Jessie. Next was William Condon, age 23 years in 1851, who was born 1829 in Ireland who in 1851, lived in a lumber camp in Harvey and Smith Townships. Another William Condon, was 17 years old, born in 1835 in Upper Canada. He was working in for a family who lived in Peterborough. And finally there was also William Condon born in 1836, who was 16 years old, still living at home in Otonabee Township in his parents' household. They were Richard and Mary (Dillon) Condon.
Settled Into Family Life
By the fall of 1850, the William Condon of this vignette, had leased the east half of Lot 16 Concession 4 in Douro Township. Here his family settled in to the rural farming lifestyle of the day. In March 1858, he renewed the lease on this property and then on 13 October 1865, he purchased the land from the Canada Company.
William and Jessie continued to reside on their homestead into the 1880s. The girls grew up and some of them married. Elizabeth, the youngest daughter, married at St. Peter's Church in Peterborough on 11 January 1877. Her husband was Edward Albert Jones who had been born in New York State, USA.
Jessie Condon, named after her mother, became the wife of Jeremiah Hayes on 24 November 1870 at St. Joseph's Church in Douro. Over the following two decades they had a family of fourteen children, eleven daughters and three sons. Of these children, twin girls Mary and Joanna, born in 1874 did not live. Mary died at age two days and Joanna died at age three months.
In the 1870s, Jeremiah and Jessie lived on the Condon homestead, looking after the farming work and assisting her parents who were by then in their later fifties and early sixties. Also still living at home was William and Jessie's daughter Mary Condon, who had not married.
Married in Confederation Year
Margaret Lilly Condon was the second child born to William and Jessie. Two months before Canadian Confederation, Margaret married David Breeze on 29 May 1867. David, born in Newton, Montgomeryshire, Wales in 1844, was the third son of William Breeze and his wife, Mary Pugh.
David's father had died in Wales, after which his widow, Mary (Pugh) Breeze, emigrated to Canada with her three sons. She settled in Belleville by 1851, with the older two boys obtaining jobs in a local woollen mill. In 1861, Mary Breeze was living in Asphodel Township with David, then 16 years old and his older brother, John. Not long after that, the family moved into the town of Peterborough. Here David served an apprenticeship as a tinsmith with J. Stevenson who had a shop. After fifteen years, David began his own business on George Street, making and selling stoves, tin ware and general goods.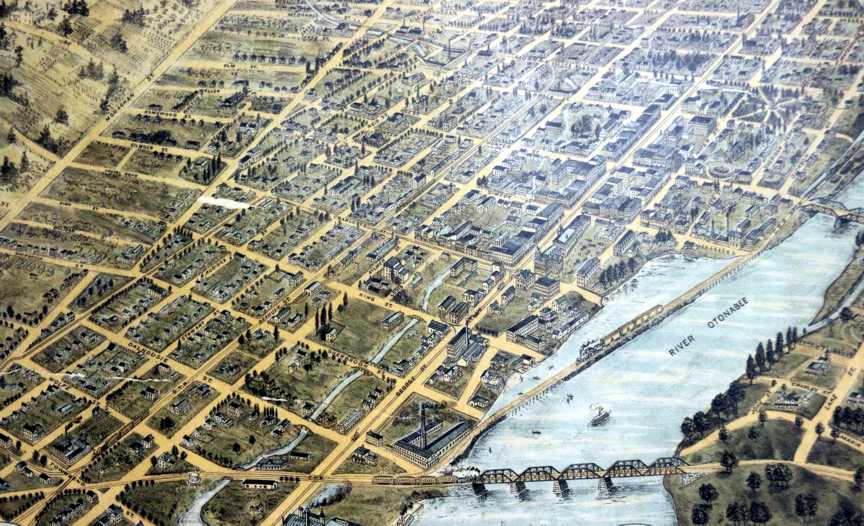 Map Section of Peterborough 1890-1895
A Business Partnership
In 1876, David had formed a business with George Hutchinson. The company known as Breeze & Hutchinson, was located on the north side of Hunter Street, just west of George. Ten years later, David was no longer in business for himself, but working for W. G. Bain & Company.
David and Margaret appear not to have had any children born of their marriage. They did adopt two girls, Jessy Fraser, born 1859, in Ontario and Mary Maud, born 1879 in Ontario. Known as Maud, she married Arthur Switzer Morrison on 25 August 1908. He was born in Toronto, Ontario a son of William C. Morrison and Elizabeth C. Switzer.
David Breeze died at his cottage on Stoney Lake in Burleigh Township, on 3 August 1904. His wife, Margaret Lilly (Condon) Breeze, died at her home on Bolivar Street in Peterborough on 27 March 1936. They rest in Little Lake Cemetery.