Michael Hannon and Elizabeth Ann McNeely Family
Michael Hannon senior was born in south Dummer Township 21 April 1836. His father, also named Michael, was born 1807 in County Limerick, Ireland. His mother was Elizabeth Fitzcharles, born in 1816 in Carrick on Shannon, Ireland.
Michael, son of Michael and Elizabeth (Fitzcharles) Hannon, was the eldest son of eight children born to the family. Another son, James, was born 20 February 1837.  The next two children in the family were also sons, Robert, born in 1841 and John born in 1844. A daughter, Jane was born in 1846, followed by another son, Thomas born in 1848. The youngest two children were daughters, Margaret born in 1859 and Mary born in 1852.
Michael Hannon senior died in Dummer Township between 1853 and 1861. By the latter date, 1861, Elizabeth was recorded as a widow on the census taken in that year.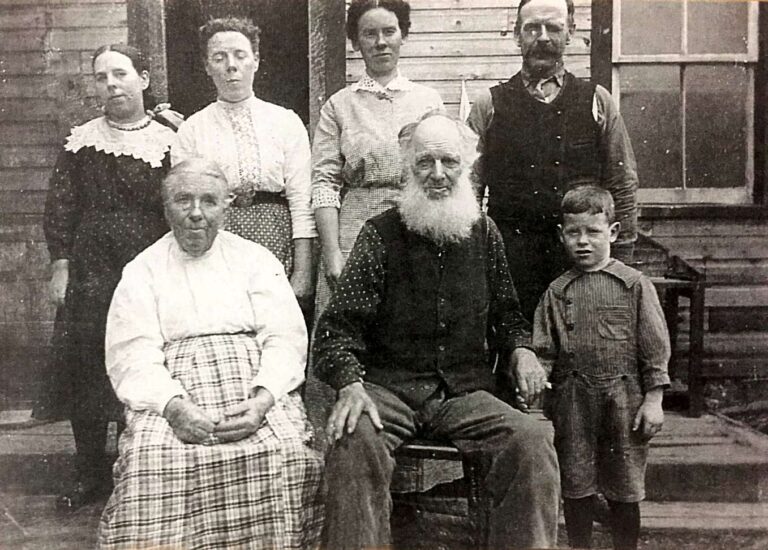 Hannon Family Homestead circa 1916
Back: Kate, Mabel, Margaret & James
Front: Elizabeth (McNeely), Michael & Leonard
Michael Hannon junior married a few years after the death of his father. His bride was Elizabeth Ann McNeely, born about 1838 in England. The young newly weds settled in Dummer Township. Here a family of six children were born to them. Eliza Jane was born in 1865. She would one day become the wife of Robert McCracken.
Robert, son of Michael and Elizabeth (McNeely) Hannon, was born in Dummer Township in 1869. As a young man he married Hannah Beatrice Jones. They resided in the village of Norwood.
Catherine Ellen, daughter of Michael and Elizabeth (McNeely) Hannon, was born in 1873.
Mary, daughter of Michael and Elizabeth (McNeely) Hannon, was born in September 1875. As a young woman of twenty years, she married Elijah Hubble. Elijah was born 21 January 1871 in Dummer Township, Peterborough County, Ontario. His father, also named Elijah, was born 27 February 1837 and died 17 May 1910. His mother was Jane Little born in Ireland in 1842 who died 8 July 1916. Jane died at her home in Dummer Township at Lot 5 Concession 9.
Elijah Hubble and Mary Hannon married in Dummer Township on 30 October 1895. They made their home in the township, there raising a family of seven children.
Elijah Hubble died in the village of Warsaw, Dummer Township on 16 April 1939. His wife, Mary (Hannon) Hubble died 18 March 1952.