Caswell of Meaford and Walters Falls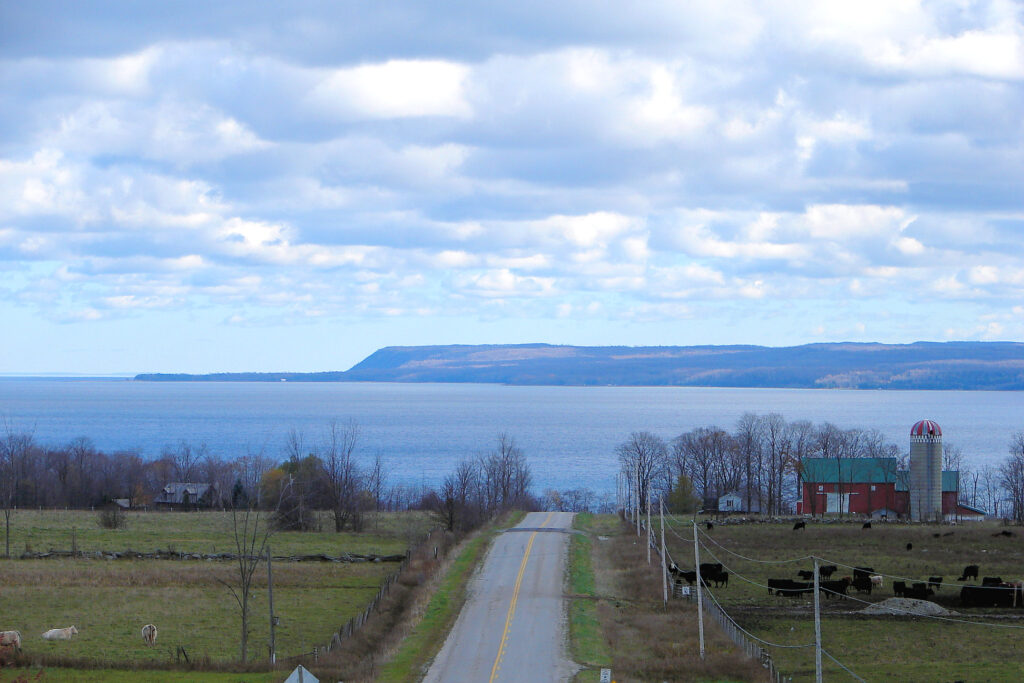 Georgian Bluffs with Owen Sound Bay and Meaford in background 
Source: Wiki Commons, User P199
Where the town of Meaford rests today, was in 1835, no more than a section of primordial wood lands edging along the shores of Owen Sound Bay. Soon it would come under survey to become an area for settlement by veterans of the War of 1812 and descendants of United Empire Loyalists.  The veterans were ready to settle into a pioneering lifestyle and the Loyalists were those who first came to Upper Canada following the American Revolution.
Today, known as St. Vincent Township, this land, now the town of Meaford, was first known at the Township of Zero. The name derives from the simple fact that back in 1835, that was as far north as anyone could go in the area.
Early History
In 1845, William Gibbard officially laid down the boundaries, lots and road allowances for the town of Meaford. To him also is given the credit for naming the town after the Earl of St. Vincent, Sir John Jervis. Jervis commanded the British fleet at the battle of Cape St. Vincent, there acquiring for himself and his men, many honours through their victories in war. To their honour, many of the towns present day streets bear the names of those who fought the battle at Cape St. Vincent.
Names as the first settler at Meaford is David Miller, who having arrived from Ireland, built himself a log cabin on the south bank of the Big Head River that flows through the town. In 1846, the government began selling land for settlement in the town and surrounding area.
Settlement Begins
Two brothers had in recent years, arrived to settle in St. Vincent Township. They were Samuel and Henry C. Caswell, born in Ireland who had first settled in Lanark County, Upper Canada. They came to the township in 1843, taking up Lot 11 Concession 8 of St. Vincent Township and thereon built a home large enough to accommodate their two young but growing families.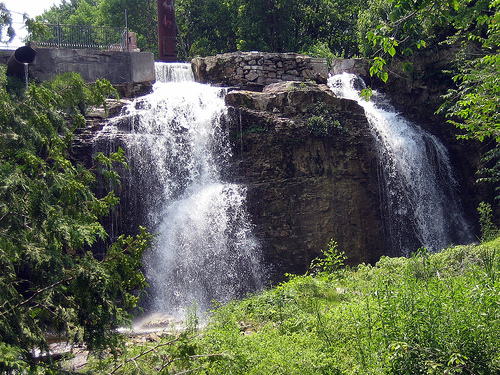 Walters Falls, Ontario
Source: Wiki Commons by Author Floydian
Walters Falls
About 1850, Samuel left the homestead to establish his family in Walter's Falls, a new community that was then being opened. The village itself would not gain a title until 1865, but now, the early pioneers were setting foot on their land and beginning to for the nucleus of the future hamlet.
Samuel Caswell seems to have married twice but might have married three times. Samuel's eldest boy, John Henry Caswell, was born in St. Vincent Township on 5 January 1851. On his marriage record, John listed his mother as Elizabeth. This was Elizabeth Douglas, wife of Samuel Caswell, who appeared in the family household at the date of the 1851 census. However, when John died, his mother's name was reported as Mary Bailey. Thus, it is possible that Elizabeth may have raised John Henry, but was not his biological mother.
Before her death on 27 August 1864, Elizabeth (Douglas) Caswell had three other children. Mary Jane was born in 1853, Elizabeth Anne was born in 1855 and Hugh James was born in 1856. Elizabeth's remains were interred in Storeys Cemetery, St. Vincent Township, Grey County, Ontario.
Samuel Caswell next married Maria Jane Taylor. They would have a family of six children, four daughters and two sons. Maria Jane, was born in 1869; George Thomas was born in 1873; Hannah Caroline was born in 1876; Arthur Wilmot was born in 1878; Phoebe Rachel was born in 1882 and Emma Mabel was born in 1885.
For the remainder of his lifetime, Samuel farmed his land in Sydenham Township, nearby Walter's Falls. He died on 11 July 1911 and was buried in Storey's Cemetery.
Samuel's Children
A number of the children of Samuel married. Some stayed in the area while others did not.
1. John Henry Caswell, born in 1851, married in 1875, to Ann Beth Currie. They lived in Euphrasia Township and raised a family of nine children.
2. Mary Jane Caswell, born 1853, married in 1877 to Alex Stewart. They had at least one child, a daughter named Maude.
3. Elizabeth Anne Caswell, born in 1855, married in July 1873, to Frederick Oliver. They lived in the area and raised a family of eight children.
4. Hugh James Caswell, born in 1856, married in March 1883 to Mary Kirkpatrick. They lived in Euphrasia Township and raised a family of ten children. Mary (Kirkpatrick) Caswell died in February 1903. Hugh James Caswell next married Annie Farley by whom he had another three children. Hugh James died in December 1946.
5. Maria Jane Caswell, born in 1869, married Alfred Brown in July 1886. They had a family of four children.
6. George Thomas Caswell, born in 1873, married Sadie Boyce in November 1905.
7. Hannah Caroline Caswell, born in January 1876, married at Walters Falls in September 1896. Her husband was Reginald J. Knight. They had four children.
8. Arthur Wilmot Caswell, born in 1878, married Mary Agnes McQuaker in December 1903. They had two children.
9. Phoebe Rachel Caswell, born in February 1882, married three times. Her husbands were George Keeling; William Ward and John Walter Marshall. George and Phoebe did not have any children. With John Walter Marshall she had five children. In 1901, an infant son who did not survive, was born. George Walter was born in 1902, Alexander Edwin was born in 1904, Florence Grace was born in 1907 and Lenore Mabel was born in 1910. John Marshall died in March 1913. On 11 October 1917, at Owen Sound, Phoebe married William Henry Ward. No children were born of this marriage. William must have died shortly after his marriage to Phoebe for in 1921, she was again a widow. Sometime after 1921, Phoebe married the widower, George Keeling. No children were born of their union.

10. Emma Mabel Caswell, born in July 1885, married in December 1905 to Charles Benedict. They had a family of eight children.
A Second Caswell Family
Henry Caswell, born in 1800 in Ireland, was an older brother of Samuel. Henry also came to St. Vincent Township in 1843 and stayed for the next decade. By 1861, Henry was residing in Sydenham Township, but later returned to live once more for a number of years in St. Vincent Township. In the late 1870s, Henry was again living in Sydenham Township. He died there on 15 March 1880 at the age of 87 years. His wife, Eliza Jane (Bailey) Caswell, had predeceased him by many years. She passed away before February 1852.
Eliza and Henry had a family of five sons. Hugh was born in 1831; Henry Jr., in 1836 and Robert in 1838. The two youngest boys were George Ackland Caswell, born in 1843 and John Caswell was born in 1846.
Two of their sons, George and John, learned the shoe making trade in Meaford. They opened their own shop on Nelson Street, in Meaford in the early 1860s. In 1868, they moved their shop to Sykes Street in town. Then in 1869, John Caswell died. His funeral was a very largely attended event.