In the Peterborough Daily Evening Review of 8 May 1913, appeared the death notice of one Mrs. T. McCamus:
            Mrs. T. McCamus passed away Friday last at the home of her son. She will be greatly missed by all who knew her. She leaves to mourn her loss, three sons, Robert, James and William and two daughters, Mrs. H. Armstrong and Mrs. Ball, of Cavan. Also three sisters and two brothers. Mrs. McCamus was a member of the Anglican Church at Bailieboro. The funeral took place Sunday last and proceeded to the Anglican Cemetery for interment.
While today, it appears a curious form of address, once upon a time it was the accepted way to identify a woman. She was referenced simply by her husband's name, her own given and maiden surname never being indicated.
So just who was Mrs. T. McCamus? The answer to this question lies in the distant past, hidden among the tangled stories of earlier family generations.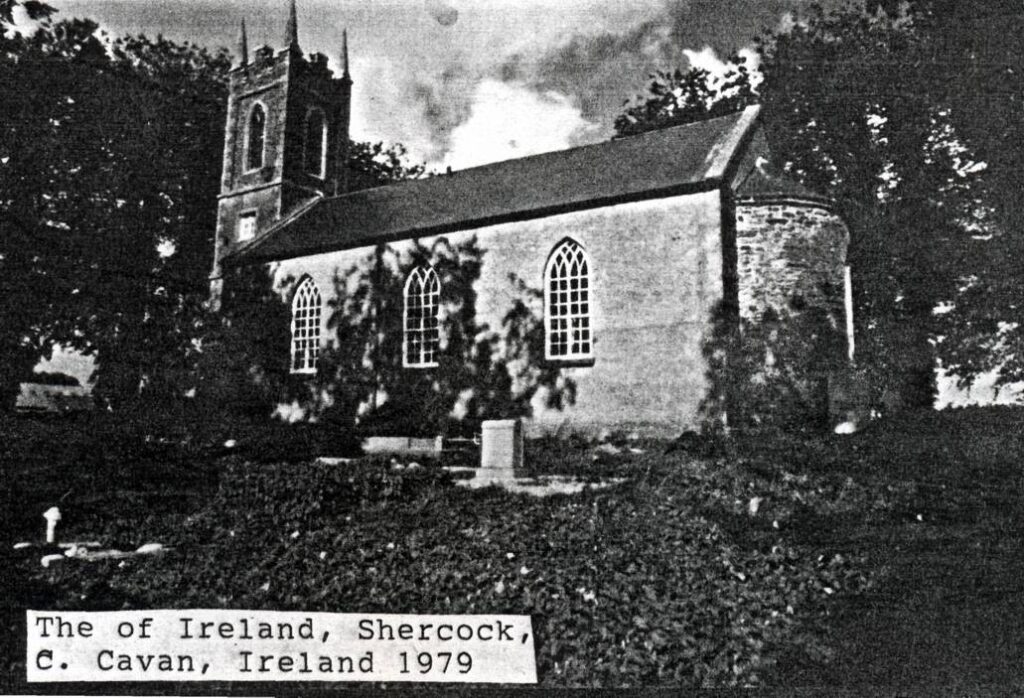 John McCamus, was born about 1767 in Ireland, in the small town of Shercock in the eastern part of County Cavan. His wife's name was Margaret. Six children have been identified to the marriage of this couple. These children were: Edward, Margaret, born 1787; William, born 1794; Robert, born 1800; Martha, born 1805 and John born 1808.
It is through the marriage of their son, Robert, that we are brought a step closer to the life time of Mrs. T. McCamus. Robert McCamus and some of his siblings, immigrated to Upper Canada in 1820. Robert located on the east half of Lot 18 Concession 1 of Cavan Township, Durham County. Here, in Cavan Township, he was married to Isabella McNeil on 7 August 1826. Isabella was born about 1802, a daughter of Archibald and Margaret McNeil. Robert and Isabella had six children: James, Margaret, born in 1827; Annie born in 1829; Mary; William born about 1834 and Thomas, born in 1836.
Robert and Isabella had a son Thomas, born 18 April 1836 in Cavan Township. Robert married Sarah Jane Fair. Sarah was born 11 August 1848 in Cavan Township, Canada West. She was a daughter of James Fair1817-1906 and Mary Jane Stewart 1825-1902. Thomas and Sarah were married in Cavan Township on 19 December 1871. They were married by the Rev. Thomas W. Allen.
A daughter, Mary Isabella, was born to Thomas and Sarah Jane (Fair) McCamus on 25 October 1872.  A little over two years later, a son, Robert, was born on 3 January 1875. On 9 August 1878, another son, James Linden was born and on 26 March 1881, another son, William Thomas was born. Margaret Jane, the fifth child of Thomas and Sarah, was born on 6 February 1884. She died at age 5 years and 10 months, on 17 December 1889.
 Kathleen Martha was the next daughter, was born to the family on 30 June 1886. The last child was a son, named Norman Fair McCamus. Norman was born on 8 August 1889 and died just six months later on 25 February 1890.
In the family photo (shown at right) are left to right: Sarah Jane (Fair); William; Robert; Mary; James, Kathleen and Thomas McCamus.
Mary Isabella, daughter of Thomas and Sarah Jane (Fair) McCamus, married John Henry Armstrong, in Cavan Township on 16 December 1891. John was born 24 November 1863, in the township, a son of John and Elizabeth (Fitzgerald) Armstrong. They had a family of four daughters and two sons. John Henry Armstrong died on 4 April 1914. His wife, Mary Isabella (McCamus) Armstrong, died 9 February 1947. They rest in St. Paul's Anglican Church Cemetery in Cavan Township.
Robert, son of Thomas and Sarah Jane (Fair) McCamus, married twice. His first wife was Julia A. Eagleson, born 30 May 1877. Julia was the daughter of James Eagleson and Charlotte Perrin. They had a family of two sons and two daughters. Julia (Eagleson) McCamus died on 23 March 1917. Some years later, Robert married again. His second wife was Elgin Lough. Robert McCamus died on 15 November 1946.
James Linden, son of Thomas and Sarah Jane (Fair) McCamus, married Martha Brown, daughter of William and Isabella (Wood) Brown. Martha was born 11 December 1873. She and James had two children, a son Ralph and a daughter Isobel. James Linden McCamus died on 20 February 1942. Martha (Brown) McCamus died 14 December 1959. They rest in St. Paul's Anglican Cemetery in Cavan Township.
William Thomas, son of Thomas and Sarah Jane (Fair) McCamus, married Robena Tate on 15 March 1916 in Cavan Township. Robena was born 19 February 1890, a daughter of John and Emma (Stewart) Tate. William and Robena had a son Harold. On 22 October 1918, Robena (Tate) McCamus died. Her husband, William, outlived her by forty-eight years. William McCamus died on 22 September 1964. They also rest in St. Paul's Anglican Church Cemetery in Cavan Township.
Kathleen Martha, daughter of Thomas and Sarah Jane (Fair) McCamus, also married twice. Her first husband was Henry Wilbert Ball, born 30 April 1881 in Durham County. They had three daughters. Henry died 28 June 1939 and Kathleen later married Wellington Wood.
Returning to the parents of these children, Thomas and Sarah Jane (Fair) McCamus, we learn that Thomas died on 21 May 1906. His funeral was held two days later and was noted as one of the largest ever seen in the township. As the cortege passed Christ Anglican Church in Bailieboro, where Thomas had long been a member, the church bell tolled out his passing.
The passing of Thomas McCamus left behind his widow, the former Sarah Jane Fair. Sarah outlived her husband by another seven years, her death occurring on 2 May 1913.
This was the "Mrs. T. McCamus" obscurely referenced in the newspaper notice of early May 1913.