Connections of George O'Connell
In the early years of the 1840s, Cornelius Murray had married Jane Murray. They had two children, William Peter born in 1843 and Elizabeth born in 1845. However, before 1847 Cornelius had died.
On 11 April 1847, at St. Mary's Church in Lindsay, Jane Murray, widow of Cornelius, became the wife of Irish born, Timothy O'Connell:

The following year on 23 March 1848, a son George, was born to Timothy and Jane (Murray) Connell. It is odd that the family as a group cannot be located in the 1851 census. However, in 1861, George is found in the household of Mathew Connell of Emily Township. That year of 1861, two others were also living in the house. They included Daniel, aged 82 years and Bridget aged 28 years. At 14 years of age, George was the youngest member of the household.
Daniel Connell of Ireland
The family of Daniel Connell was one of the 1825 Robinson Settler families from Ireland. Daniel was born about 1777. His wife, Elizabeth, was born circa 1789. They came from Freemount, County Cork.
In 1825, Daniel and Elizabeth sailed from the port of  Cobe, on board the ship Elizabeth. With them were their children: George, age 20 years; James aged 17;  Elizabeth aged 14; Mary 11; Daniel age 8; John 5 and Timothy, just 2 years old. Daniel received land on Concession 10 in Emily Township. His property was the south half of Lot 4 in the tenth concession. George, already a young man of twenty years in 1825, also received land. He was given Lot 3 in Concession 9 of Emily Township.
After Daniel and Elizabeth arrived in Upper Canada, another three children were born to their family. Mathew was born in 1831; Bridget in 1833 and Francis in 1847. Elizabeth Connell died on 15 August 1847 in Emily Township. Her remains were laid to rest in the Downeyville Pioneer Cemetery.
Family in the 1850s and 1860s
By 1851, Daniel and his son George, had traded properties. George now farmed on the land originally granted to his father. Daniel, recently widowed, lived on the lot assigned to his son George. With Daniel were his three youngest children, Mathew, Bridget and Francis.
The passing of another ten years brought the family into the early years of the decade of the 1860s. Daniel and his son George were still found on the lands they had traded each other for a decade earlier. At this date, George had control of only 20 acres of the original 100 acre grant of land. The other 80 acres of this lot were farmed by Patrick Burke.
Mathew Connell was listed as the head of household for the farm on the east half of Lot 3 Concession 9. With him were his father Daniel, now 82 years old; Bridget, age 28, sister of Mathew and their young nephew, George, then 14 years old.
George was living in his uncle's household due to other changes that had occurred. His father and mother, Timothy and Jane (Murray) Connell, had both passed away. Their deaths left three children without parents. From Jane's first marriage to Cornelius Murray were her two children: William Peter born in 1843 and Elizabeth born in 1845. George, born in 1848, was Jane's son by her marriage to Timothy Connell.
In 1861, William, son of Jane by her first husband, Cornelius Murray, resided in the Emily Township household of Patrick and Ellen Connolly. William was 19 years old. His sister, Elizabeth Murray lived in Ennismore Township in the household of Martin and Elizabeth Corkery.
Young George Marries
On 26 November 1878, Daniel Connell's grandson, George, married Ellen O'Neil at St. Martin's Church in Ennismore. Ellen was born in Emily Township on 22 July 1857. Her parents were Morgan O'Neil and Catherine Callaghan. Ellen was their oldest daughter and second of fifteen children born to their family.
George and Ellen established their home in Emily Township where they would reside for almost the next fifty years. In September 1879, a son, Timothy, was born to this young couple. He was baptized at St. Luke's Church in the hamlet of Downeyville, on 5 October 1879. Timothy died at the young age of 21 years on 27 December 1900. His body was interred in the family plot at St. Luke's Cemetery, Downeyville.
On 6 August 1881, a daughter, Catherine Ellen, was born to George and Ellen. Catherine was baptized at St. Luke's Church on 8 August 1881. Another son, Morgan Joseph, was born in Emily Township on 4 June 1883. Daniel Francis was born on 24 July 1886. He also died at an early age, his death occurring on 2 August 1913, when he was 27 years old. Vincent Patrick, the fourth son, was born on 28 May 1888. The youngest child of George and Ellen was another daughter, Mary Euphemia, born 1 January 1893.
It was around 1910 that the family took on the O'Connell version of their surname. Thereafter the name remained with that spelling. Around 1921, Catherine became an invalid. In mid June 1924, George had gone into Lindsay and while there took ill. He was removed to hospital and from there was later brought home again. Feeling he had much improved, George decided to get up and leave his room. Unstable on his feet, due to both his recent illness and the rheumatism from which he suffered, George slipped and fell over the banister as he attempted to negotiate the stairs. The fall resulted in his death a few days later. George died on 24 June 1924. His remains were interred in St. Luke's Cemetery at Downeyville. He was survived by his wife, Ellen, two sons and two daughters. Ellen (O'Neil) O'Connell outlived her husband by another five years. Her death occurred on 2 January 1929, at the family homestead. She was laid to rest beside her husband in St. Luke's Cemetery.
Lives of the Grown Children 
Catherine Ellen, the eldest daughter of George and Ellen O'Connell, grew up in Emily Township, helping out at home as she grew old enough and completing her basic education at the local school. As a young woman, Catherine married Michael Houlihan on 26 June 1906. Michael was born on 22 August 1870, a son of Dennis R., and  Mary (Callaghan) Houlihan. They farmed on Lot 7 Concession 13 in Emily Township in the early years of the 1900s. Their family included three daughters and a son. Michael Houlihan died at their family home on 24 November 1930. His wife, Catherine Ellen (O'Connell) Houlihan, died on 27 September 1935. They are interred in St. Luke's Cemetery, at Downeyville.
Morgan Joseph, son of George and Ellen O'Connell, went to live in the United States around 1910. For thirty-four years, Morgan managed the International Elevator Company grain elevators along the Hi-Line. He had started with the company in 1916 at Galata and was later transferred to Rudyard and then Gilford. Morgan finished his working years with the company at Havre from where he retired in 1950.
At Great Falls, Montana, he married Kathryn Anderson on 28 December 1921. They resided at Havre, Hill County, Montana, throughout their married years. A son, George, was born to them in 1923 and a daughter, Florence, was born in 1927. Morgan died at Havre on 12 September 1971. Katherine died there on 14 November 1981. They rest in Calvary Cemetery, Havre.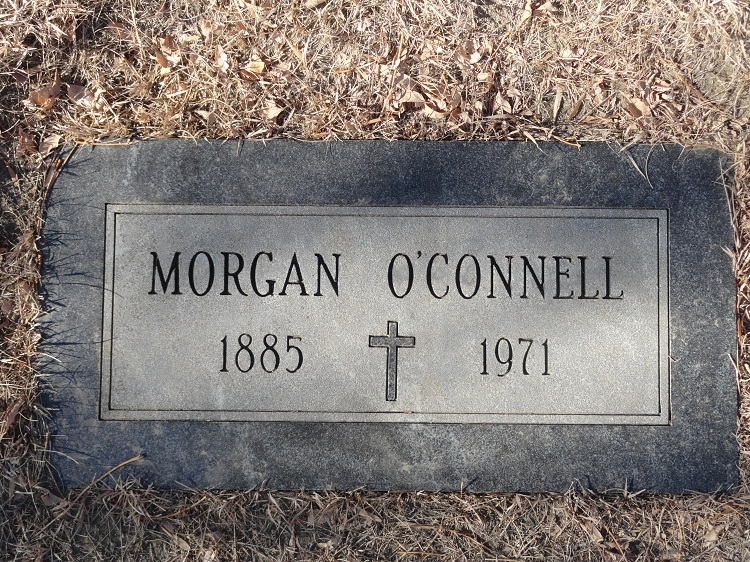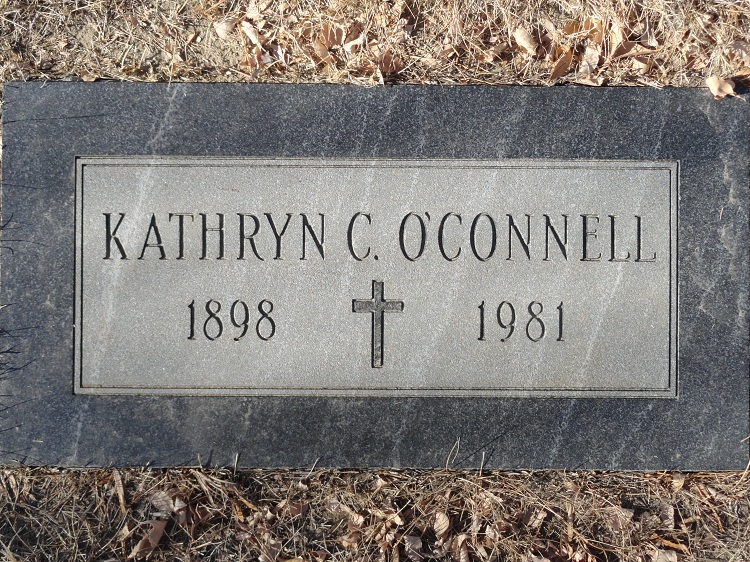 Vincent Patrick, son of George and Ellen O'Connell, grew up in Emily Township, attending school and learning the skills of farming from his father. On 20 February 1909, Vincent married Loretta Mary Harrington. She was born 15 January 1884, a daughter of Thomas Harrington and Margaret Doyle. The young newly-weds set up their home at Lot 1 Concession 10 in Emily Township. The following year a son, Ralph Joseph was born. In 1912, another son, Timothy, was born and a daughter Marguerite Mary Loretta was born in 1915. Three years later, in 1918, another son, Morgan was born to Vincent and Loretta. In 1921, a fourth son, Louis Paul was born.
Vincent Patrick O'Connell died on 19 March 1970. His wife, Loretta Mary (Harrington) O'Connell, died on 2 June 1978. They rest in St. Luke's Cemetery, Downeyville.
Mary Euphemia was the youngest child born to the marriage of George and Ellen (O'Neil) O'Connell. As the youngest child in the family, Mary took on the responsibility of caring for her aging parents. She became a school teacher and worked in the local community during the years she resided at home with her parents. After her mother's death in 1929, Mary chose to go to the United States to join her brother Morgan. At Havre, Montana, she married Allen H. Lucas on 2 June 1938. Mary Euphemia (O'Connell) Lucas died the following year on 21 January 1939. Her remains were interred at Calvary Cemetery, Havre.